By vox
BMW GINA (Geometry and Functions in 'N' Adaptations) Light Visionary Photos
The BMW GINA (Geometry and Functions in 'N' Adaptations) Light Visionary concept is BMW's future-focused design study on the possibilities offered by flexible coverings. Based on a 2-seater roadster platform, GINA's revolutionary exterior has allowed its designers to do away with the traditional body panel approach, concentrating on visual and structural lines rather than full body pieces. The stretched fabric follows the outlying lines and forms visually pleasing curves between them.
Check out more photos below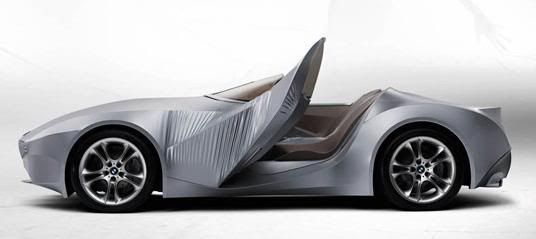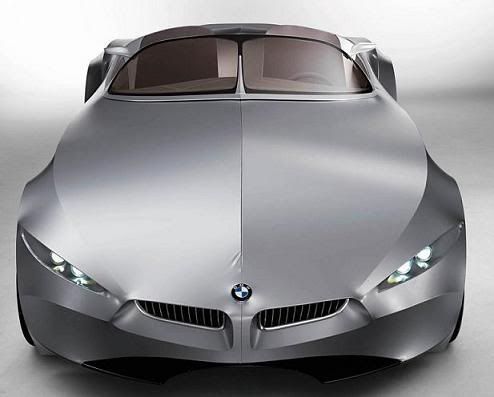 GINA's doors don't have any external hinges - instead, the internal subframe tilts upward and the car's 'skin' simply flexes as the door opens. Its headlights are completely covered when they're not in use, and when they're switched on, the curve of the bonnet changes to accept higher side ridges as GINA's 'eyes' open up.
he rear spoiler moves beneath the skin, creating extra downforce at higher speeds while maintaining slippery aerodynamics Making-a-Racket May-07 . The indicators and tail-lights are hidden, and shine through the skin, which is permeable to light, but not transparent, and the intake grille can adjust its size if more or less air is needed..
Opening the hood to work on the engine is like performing surgery - the fabric is opened down the middle of the bonnet and the sides are pulled apart to allow access. The safety aspect of the car is entirely handled by the structural frame beneath the skin.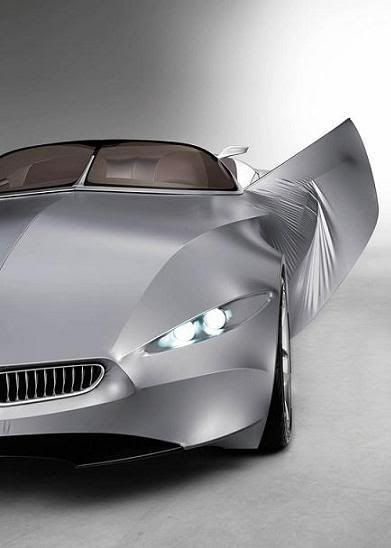 The effect from a design perspective is quite striking - and even if the GINA concept is mainly a styling exercise at the moment, it opens up some very cool possibilities down the track.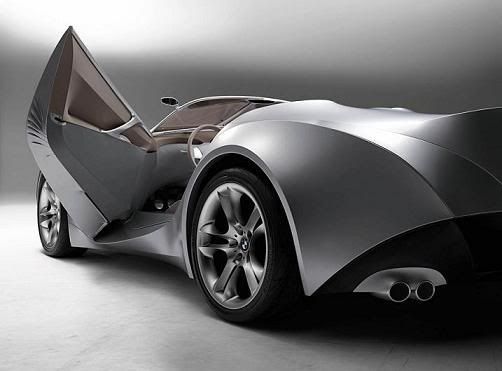 Multistructural cars could be built on a platform that, at its core, simply encompasses a rolling chassis, engine and interior, as well as moving structural elements that change the shape of the car completely. If the fabric can be rolled up somehow inside the structure, there's no reason why it wouldn't be possible to design a sportscar that transforms into a hatch - or even a wagon - when extra carrying room is needed, finally allowing the sportscar to become a practical everyday vehicle as well.
Naturally, the flexible fabric would have to prove itself in terms of durability, resistance to tearing, puncture and road debris, road noise reduction and overall vehicle safety before GINA ever made it to the market, but it's fair to say this is one of the most fascinating and fundamentally revolutionary design studies the auto world has seen for some years.
By vox
Siapakah manusia terjenius yang pernah dimiliki dunia? Da Vinci? John
Stuart Mills? Atau Albert Einstein seperti yang selama ini diperkirakan
orang?
Ketiganya memang dianggap jenus-jenius besar yang telah memberikan
banyak pengaruh terhadap bidangnya masing-masing. Tapi gelar manusia
terjenius yang pernah dimiliki dunia rasanya tetap layak diberikan kepada
William James Sidis. Siapakah ia? Mengapa namanya tenggelam dan kurang
dikenal walau angka IQnya mencapai kisaran 250–-300?..Subhanallah

Keajaiban Sidis diawali ketika dia bisa makan sendiri dengan menggunakan
sendok pada usia 8 bulan. Pada usia belum genap 2 tahun, Sidis sudah
menjadikan New York Times sebagai teman sarapan paginya. Semenjak saat itu
namanya menjadi langganan headline surat kabar : menulis beberapa buku
sebelum berusia 8 tahun, diantaranya tentang anatomy dan astronomy. Pada
usia 11 tahun Sidis diterima di Universitas Harvard sebagai murid termuda.
Harvardpun kemudian terpesona dengan kejeniusannya ketika Sidis memberikan
ceramah tentang Jasad Empat Dimensi di depan para professor matematika.
Lebih dasyat lagi : Sidis mengerti 200 jenis bahasa di dunia dan bisa
menerjamahkannya dengan amat cepat dan mudah. Ia bisa mempelajari sebuah
bahasa secara keseluruhan dalam sehari !!!!
Keberhasilan William Sidis adalah keberhasilan sang Ayah, Boris Sidis yang
seorang Psikolog handal berdarah Yahudi. Boris sendiri juga seorang
lulusan Harvard, murid psikolog ternama William James (Demikian ia
kemudian memberi nama pada anaknya) Boris memang menjadikan anaknya
sebagai contoh untuk sebuah model pendidikan baru sekaligus menyerang
sistem pendidikan konvensional yang dituduhnya telah menjadi biang keladi
kejahatan, kriminalitas dan penyakit. Siapa yang sangka William Sidis
kemudian meninggal pada usia yang tergolong muda, 46 tahun - sebuah saat
dimana semestinya seorang ilmuwan berada dalam masa produktifnya. Sidis
meninggal dalam keadaan menganggur, terasing dan amat miskin. Ironis.
Orang kemudian menilai bahwa kehidupan Sidis tidaklah bahagia. Popularitas
dan kehebatannya pada bidang matematika membuatnya tersiksa. Beberapa
tahun sebelum ia meninggal, Sidis memang sempat mengatakan kepada pers
bahwa ia membenci matematika - sesuatu yang selama ini telah melambungkan
namanya. Dalam kehidupan sosial, Sidis hanya sedikit memiliki teman.
Bahkan ia juga sering diasingkan oleh rekan sekampus. Tidak juga pernah
memiliki seorang pacar ataupun istri. Gelar sarjananya tidak pernah
selesai, ditinggal begitu saja. Ia kemudian memutuskan hubungan dengan
keluarganya, mengembara dalam kerahasiaan, bekerja dengan gaji seadanya,
mengasingkan diri. Ia berlari jauh dari kejayaan masa kecilnya yang
sebenarnya adalah proyeksi sang ayah. Ia menyadarinya bahwa hidupnya
adalah hasil pemolaan orang lain. Namun, kesadaran memang sering datang
terlambat.
Mengharukan memang usaha Sidis. Ada keinginan kuat untuk lari dari
pengaruh sang Ayah, untuk menjadi diri sendiri. Walau untuk itu Sidis
tidak kuasa. Pers dan publik terlanjur menjadikan Sidis sebagai sebuah
berita. Kemanapun Sidis bersembunyi, pers pasti bisa mencium. Sidis tidak
bisa melepaskan pengaruh sang ayah begitu saja. Sudah terlanjur tertanam
sebagai sebuah bom waktu, yang kemudian meledakkan dirinya sendiri.
Sumber: Milis